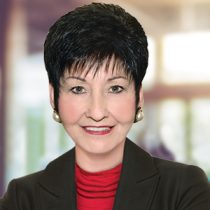 As the consummate real estate professional, Ann Gordon brings the passion of the profession and the highest value of ethics to her clients. She puts every bit of her energy into what is best for the client as a buyer or seller.
Armed with over 43 years of experience in real estate sales, marketing and management she also carries the prestigious credentials of GRI, the Graduate, REALTOR® Institute (GRI). The GRI symbol is the mark of a real estate professional that has made the commitment to provide a high level of professional services by securing a strong educational foundation.
Ann understands that buying property is a complex and stressful task and often the biggest single investment you will make in your lifetime. Real estate transactions have become increasingly complicated. New technology, laws, procedures and the increasing sophistication of buyers and sellers requires real estate practitioners to perform at an ever-increasing level of professionalism.
"I've worked in both large and small markets throughout the state, but the basic needs of the people are the same – honesty, integrity and service at the highest level."
In today's housing market, where client profiles are changing rapidly, Ann gains the confidence of a potential homebuyer by understanding the needs of diverse clients reflected in the market. She gained invaluable knowledge by serving on the HUD Advisory Board for the Southeastern Region and as a board member of the AL Association of Realtors.
"It's important that I understand the needs of buyers and sellers so that I can provide the level of service that I would expect."
As a native of Atmore, Ann Gordon delivers the best service and quality to all clients. Ann lives by her mantra that "I measure my success one family at a time."